Fractional Employees are the Key to Small Business Growth
Small businesses with limited budgets have always needed less-than-full-time or fractional employees. A part-time CFO who oversees your financial strategy or a human resources specialist to manage your seasonal hiring peaks can be invaluable for helping a small business grow. Unfortunately, the talent supply hasn't always been there.
Thankfully, that's changing. Cultural shifts like the gig economy, on-demand lifestyles and a greater focus on work/life balance mean that workers at all levels are not just open to flexible work – many are demanding it. In this article, we'll explain how fractional hiring can give your business a competitive edge and how you can leverage flexible or fractional employees to not only keep up with day-to-day demands but to also drive growth for your business. 
The Difference Between Flexible vs. Fractional Employment
It's important to understand the nuances of flexible versus fractional employment. Typically, people talk about fractional employment in terms of the C-suite. Fractional employees tend to be solopreneurs such as a CFO who spreads his or her time across a number of companies, working a few hours a week at each organization. These companies get the benefit of a high-level executive without the steep costs of a full-time hire.
Flexible employment is fractional employment at scale. It's a model that Flex-Able Solutions has pioneered. We start by assessing the work your company needs done and then deploy talent at the right level. You get experienced employees from the C-suite to the manager to the staff level, or even an entire team. As with fractional employment, your company benefits from highly-skilled employees without incurring the costs of full-time hires. The added benefit is getting employees that match your needs more closely in an arrangement that is easily scaled up or down. 
Use the Fractional Staffing Model that Big Businesses Leverage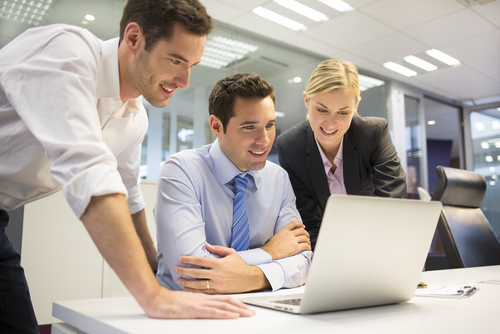 Major corporations have long realized the benefit of leveraging non-W2 employees to manage peaks and valleys in their workloads. Because their work encompasses hundreds or thousands of hours, large companies can hire teams of consultants or temporary workers. They get the work done when they need it without the expense associated with full-time hires or the hassle of eliminating positions when the work winds down.
Small businesses, of course, have smaller needs – maybe eight hours a week for a bookkeeper or 12 hours for a human resources manager. Historically, top talent wasn't interested in such reduced work hours however, the gig economy and a general shift in cultural priorities have changed these calculations.
"The younger generation isn't buying into finding a 40 hour-a-week job to be successful. They're more cognizant of the life they want to live, and they want flexibility," says Aaron Schoenecker, president of Flex-Able Solutions. "On the other end of the age spectrum, more seasoned professionals want to stay relevant and keep up with their profession but work fewer hours."
This cultural shift, coupled with the availability of health insurance independent of employment, means that what was once only available to big businesses is now accessible to your organization. Properly managed, it could be what ultimately drives your growth. 
The Benefits of Flexible Work Arrangements for Employers
In a small business, you often don't have the budget to hire a full-time employee for every single skill set. So, your office manager ends up doing HR on the side, or your controller does bookkeeping in her spare time. The result is your employees being stretched thin and often doing jobs that really don't fit their skills. The work – and ultimately the company – suffers.
With flexible or fractional employees, you can hire for exactly the skill set you need for the hours you want. Let's say you're a landscaping company that wants to host a big hiring event before summer. You need human resources talent for recruiting, hiring and onboarding to make the event a success. With a flexible approach, you can hire that person or team for a set amount of time or until the work slows down.
Use flexible hiring to give your company the boost big businesses regularly benefit from. A recent article in Forbes magazine further outlines the fractional hiring advantage for business owners.
Be Ready to Seize Opportunity with Fractional Staffing
Even if your business has the right people in the right roles, your needs can change quickly. Signing a big new customer, being audited, or launching a new product can double your workload overnight.
Flex-Able Solutions is your strategic partner to help manage these peaks and valleys in the business cycle. Investing in a flexible employment model can pay big dividends toward your future growth. Flex-Able Solutions provides finance, accounting, human resources, recruiting, technology and other professional services to help small businesses like yours navigate their changing staffing needs. We are your ace in the hole when your staffing needs change suddenly.
Schoenecker explains that Flex-Able acts as a general contractor for businesses looking for flexible employees. When you need work done, Flex-Able provides all of the subcontractors you need to most efficiently and expertly complete the work.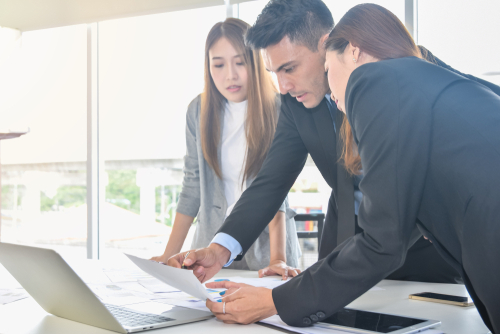 "The employer doesn't have to worry about hiring, turnover or if they're even hiring for the right title. We help them match the work they need done to the right people. Once in place, we can dial the service up or down seamlessly," Schoenecker said.
Grow Your Business with Flexible and Fractional Staff
With a flexible approach, your company can garner the same benefits that big companies regularly realize. Gain greater efficiency, better job-specific expertise, lower overhead, and more highly skilled workers. We give you the key ingredients for business growth, you decide the portions.
If you need help matching the right flexible employees to the job, Flex-Able Solutions can help. Contact us today!